Top 5 Jobs After B Pharmacy - Jobs after B.Pharm and Salary
Healthcare Jobs
The Bachelor of Pharmacy (B.Pharm.) is a 4-year, job-oriented degree program catering to the pharmaceutical and healthcare sector. This course opens doors to well-paying jobs right after graduation and opportunities for advancement through further education.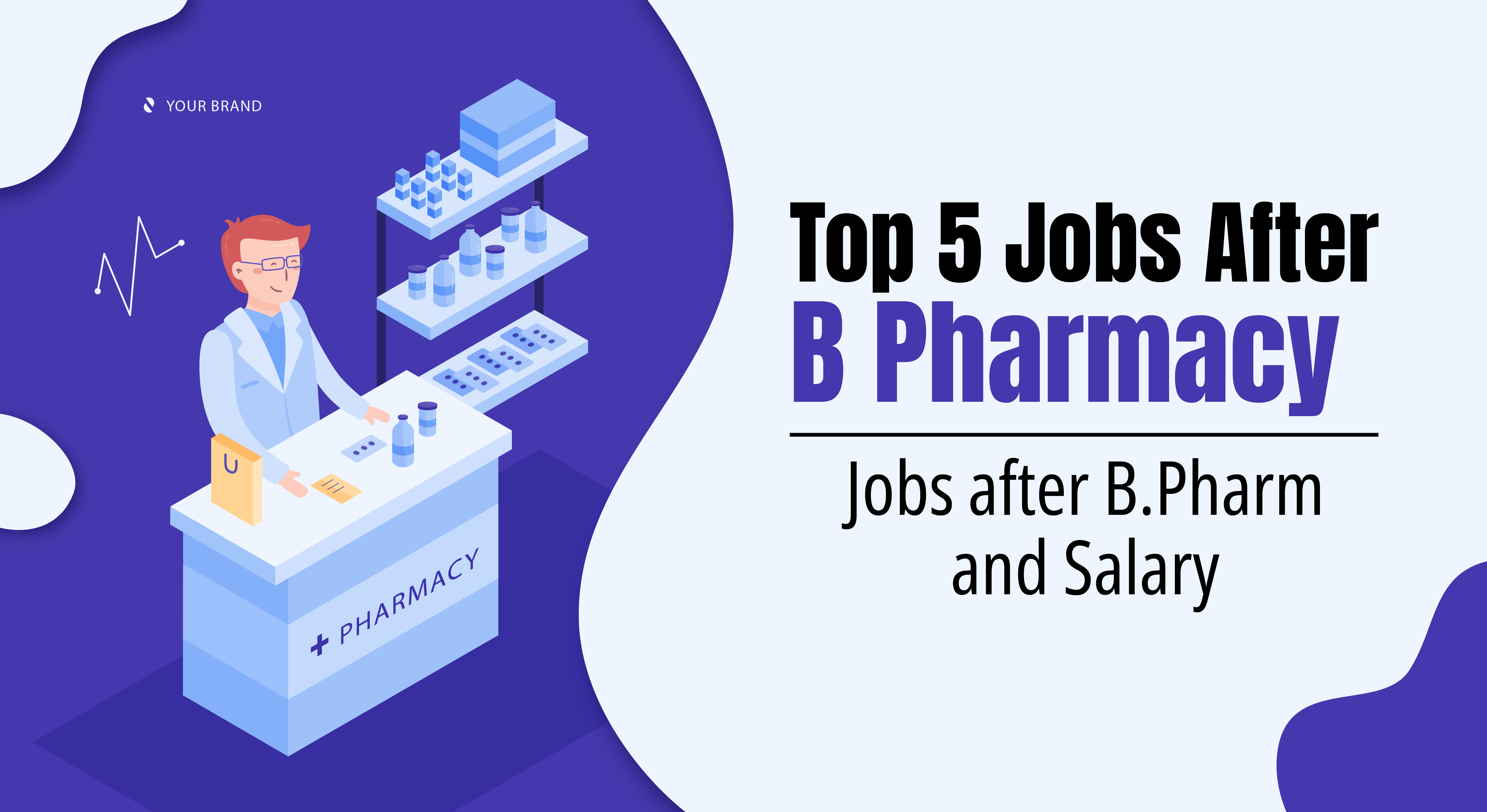 With a B.Pharm. degree, you can explore diverse roles in the pharma industry, government, and private sectors. Pursuing postgraduate options like M. Pharm and PharmD can lead to research-oriented pharmacy careers.
Notably, India, housing over 10,500 pharmaceutical manufacturing units and 3000 pharmacy-related companies, is a major player in the pharmaceutical field. B Pharmacy graduates can tap into a multitude of job prospects, aligning with the evolving pharmaceutical sector's demands.
Jobs after B. Pharm and Salary
In India, pharmacy graduates have a plethora of job options available to them. The field of pharmacy holds a respected and dependable reputation, offering aspirants promising pharmacy jobs with attractive salary packages.
These pharmacy jobs after B. Pharm provide pharmacy graduates with ample opportunities to establish fulfilling careers while enjoying rewarding remuneration.
Here is the detailed information on potential healthcare jobs after B. Pharm:
Pharmacist
Pharmacists hold a crucial role in healthcare, with diverse opportunities. In central government hospitals qualified pharmacists secure well-paying permanent positions.
Pharmacists act as the vital bridge between doctors and patients, requiring social skills. They dispense medications, manage inventory, and maintain records.
Central government pharmacists can earn around ₹45,000-56,000 monthly. State government or contract-based positions may offer as low as ₹12,000 monthly. The national average salary is approximately ₹14,954 per month.
Their primary duties include interpreting prescriptions, compounding, and dispensing medications, offering instructions and advice, maintaining accurate records, and ensuring compliance with pharmaceutical regulations.
Drug Inspector
Opting for the role of a Drug Inspector after completing a B. Pharm degree can be a strategic move. This job involves monitoring the safety, quality, and effectiveness of drugs throughout their journey from production to sale.
They conduct tests to assess combinations of salts and their effects, ensuring drug utility.
With a B. Pharm background, students can leverage their pharmaceutical knowledge to excel as drug inspectors. This job offers an opportunity to contribute to public health while earning a salary ranging from Rs. 55,000-65,000 per month.
Clinical Research Associate
Choosing this job role after completing a B. Pharm degree can be an excellent decision. It aligns well with the knowledge and skills gained during pharmacy education.
The role of a clinical research associate involves applying pharmaceutical expertise to ensure the safety and effectiveness of medical products.
With a B. Pharm background, students can bring valuable insights to research protocols, trial management, and documentation.
This job offers a fulfilling career path, allowing B. Pharm graduates to contribute significantly to the pharmaceutical and healthcare industries.
Pharmacist in Charge
A pharmacist in charge oversees daily pharmacy operations, ensures legal compliance, and supervises staff pharmacists. The average monthly salary for a pharmacist is around ₹17,500 - ₹25,500. They collaborate with operations managers to achieve production goals, create standard operating procedures, and offer guidance to the quality department.
Managing inventory, reviewing batch orders, receiving consignments, and ensuring proper storage of medications is part of their responsibilities.
They also verify documentation, make payments, and provide healthcare professionals with accurate product information.
Pharmacy Technician
Choosing to become a Pharmacy Technician after completing a B. Pharm degree can be a smart move. In this role, you'll help pharmacists with various tasks, using the knowledge you gained during your pharmacy studies.
Pharmacy technicians assist in preparing and giving out medications, as well as managing inventory. With your B. Pharm background, you'll have a deeper understanding of medicines, ensuring they are handled accurately and safely. This job lets you apply your pharmacy expertise in real healthcare settings, making a positive impact on patients.
Being a pharmacy technician aligns perfectly with what you learned in your B. Pharm program, making it a great career choice for the hands-on use of your pharmaceutical knowledge.
Salary After B. Pharm
| | |
| --- | --- |
| Job Roles | Average Annual Salary |
| Pharmacist | ₹2,50,000 - ₹3,00,000 |
| Drug Inspector | ₹6,00,000 - ₹7,00,000 |
| Clinical Research Associate | ₹5,00,000 - ₹6,00,000 |
| Pharmacist in Charge | ₹2,50,000 - ₹3,00,000 |
| Pharmacy Technician | ₹2,00,000 - ₹2,50,000 |
Scope after B. Pharm
After completing B. Pharm, the scope is extensive within the pharmaceutical industry. Graduates can explore diverse roles in pharmaceutical companies, contributing to research, development, and production. They can also excel in pharmacy practice, becoming pharmacists, clinical researchers, or drug inspectors. With the dynamic growth of the pharmaceutical sector, B. Pharm graduates can anticipate fulfilling careers and impactful contributions in various areas.
You can find all of these top jobs after B. Pharmacy on Docthub.com and apply directly.
FAQs
1. Which pharmacist has the highest salary?
Pharmacists specializing in areas like pharmaceutical research and development, clinical pharmacy, or hospital pharmacy management often command the highest salaries in the field.
2. Is B Pharma in demand?
Yes, B. Pharm graduates are in demand due to the growing pharmaceutical industry, and the need for qualified professionals in drug research, development, and patient care.
3. Which is best B Pharm or D Pharm?
For aspiring entrepreneurs aiming to build their pharmacy, a D. Pharm program is ideal, while those interested in research-based roles should consider pursuing a B. Pharm program.
4. Is B Pharm better than BSC nursing?
Comparing B. Pharm and BSc Nursing depends on students' career preferences and interests in pharmaceutical science or nursing practice.
5. What are the government jobs after b pharmacy?
The government jobs after completing b pharmacy include drug inspector, pharmacist, and clinical research associate.
Published: August 08 2023