Top 10 Best Forensic Science Colleges in India With Low Fees
Healthcare Courses
Forensic Science is an emerging field in India with promising job opportunities in crime bureaus and educational institutions.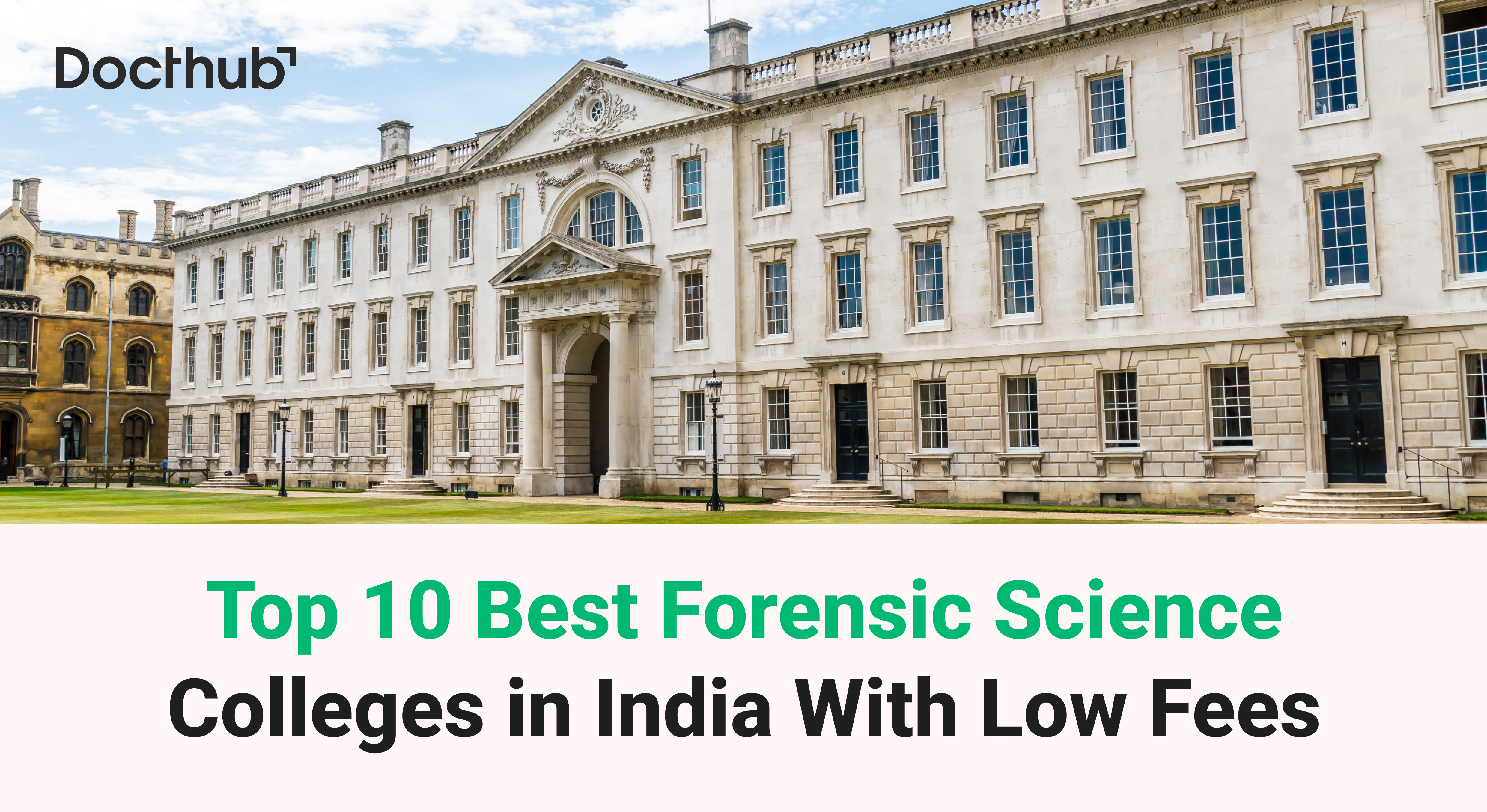 Forensic science involves applying scientific techniques to investigate crimes and analyze evidence. It encompasses various disciplines like fingerprint and DNA analysis, anthropology, and wildlife forensics.
If you're considering a career in this field, you'll find this blog helpful for discovering the top ten forensic science universities in India with low fees.
Course Highlights
Course Specialty
Forensic Science
Course Duration
6 Months - 5 Years
Course Level

Certificate
Diploma
Bachelor
Masters

Admission Process
Merit-Based or Entrance Exam Based
What is Forensic Science?
Forensic Science courses are an interdisciplinary field of study that blends the fundamentals of various scientific disciplines, including Chemistry, Biology, Physics, and Mathematics. These courses primarily focus on recognizing, identifying, analyzing, and providing testimony for different types of physical evidence found at crime scenes. They involve the systematic examination and collection of evidence using scientific methods and rely on scientific disciplines like Physics, Chemistry, and Biology to investigate crimes.
Top 10 Best Forensic Science Colleges in India with Low Fees
Here is a list of the top 10 forensic science colleges in India with low fees:
| | |
| --- | --- |
| College Name | Fees Range |
| Dr. Harisingh Gour Vishwavidyalaya, Sagar | ₹20,000 - ₹50,000 |
| BU - Bundelkhand University, Jhansi | ₹20,000 - ₹70,000 |
| IFS Education Department, Pune | ₹50,000 - ₹1,00,000 |
| Gujarat Forensic Sciences University, Gandhinagar | ₹60,000 - ₹5,00,000 |
| OU - Osmania University, Hyderabad | ₹70,000 - ₹90,000 |
| University of Madras - UNOM | ₹70,000 - ₹1,50,000 |
| Lok Nayak Jayaprakash Narayan National Institute of Criminology and Forensic Science, Delhi | ₹46,000 - ₹55,000 |
| Institute of Forensic Science, Mumbai | ₹90,000 - ₹1,00,000 |
| Amity University | ₹1,00,000 - ₹1,50,000 |
| LPU - Lovely Professional University | ₹4,00,000 - ₹5,00,000 |
With this information about forensic science colleges in India with low fees, you can start your journey towards becoming a forensic scientist or crime scene investigator. You can also find these forensic science universities on Docthub.com, where you can apply to these colleges.
FAQs
1. Is the NEET exam required for Forensic Science?
No, the NEET exam is not required for Forensic Science as it is an entrance exam for medical courses.
2. What is the highest salary in Forensic Science in India per month?
The highest salary in forensic science in India per month can go up to 9-10 LPA.
3. Is Forensic Science better than a doctor?
Forensic Science and a medical career cater to different fields and interests, making it a matter of personal preference rather than one being inherently better than the other.
4. Which country is best for forensic science jobs?
The United States offers some of the best opportunities for forensic science jobs due to its advanced technology, well-established forensic labs, and higher demand for forensic professionals.
5. Which degree is best for forensics?
A bachelor's or master's degree in forensic science, or a related field is typically considered best for a career in forensics.
Published: October 30 2023